DMAW's success is directly linked to our members' personal and professional growth. It is our mission to help motivate, educate and inspire our members to excel. Our Membership Recognition Awards gives us the opportunity to:
Express our true gratitude to individual members and their organizations for their contributions to DMAW
Recognize excellence within our membership
Honor our industry thought leaders and the high standards they have set
Recognize young professionals moving up the ranks in the industry and encourage them to always excel
Ethical conduct and integrity are fundamental qualifications for all the DMAW Membership Awards. Each recipient is to uphold the highest ethical standards in their professional practices, serving as a role model for others in the industry.
Thank you for helping recognize these traits by nominating friends and colleagues who you know meet the criteria of the various awards.
We are presenting our traditional awards as well as a couple of new ones this year! For full details criteria and how to nominate a deserving professional, review the awards here: DMAW Membership Recognition Award Descriptions Or go straight to the nomination form: DMAW Membership Award Recognition Nomination Form
Industry All Star: This award recognizes a professional as the "best in our industry!" It honors behavior that should be recognized and repeated throughout the industry – serving as a role model in the direct marketing industry. This award is jointly presented by the DMAW and the DMAW Educational Foundation..
Rising Star Award - Shining A Spotlight on Promising Newcomers: The DMAW Rising Star Award will recognize the area's most talented professional(s) with a minimum of three (3) years of experience, irrespective of age, who show uncommon potential and promise in the future of direct marketing and fundraising.
NEW This Year! DMAW will be presenting two Rising Star Awards identifying one professional working in a nonprofit and one professional working for a commercial agency or firm that provides services to nonprofits.
NEW This Year! The DMAW Emerging Leader of the Year Award – Celebrating Accomplished Leaders who are already making a significant difference – is being brought back for the first time since 2015 to recognize an individual 40 years of age or younger who demonstrates excellence in the direct marketing or fundraising field.
While our Rising Star Award recognizes our newest professionals, and our Hall of Leaders Award honors are most seasoned stalwarts, the Emerging Leader Award is given to someone who falls somewhere in between the two but is still a tremendous force in our industry.
This individual might come from any corner of our industry but exhibits extraordinary leadership, creativity, and innovation, and gives back to the DMAW community in more ways than one.
DMAW will be presenting two Emerging Leader Awards identifying one professional working in a nonprofit and one professional working for a commercial agency or firm that provides services to nonprofits.
NEW Award This Year! The Changemaker Award – This new award is designed to honor an outstanding individual who has made a significant impact in the fields of marketing and fundraising. This prestigious award aims to celebrate those who have exhibited exceptional leadership, innovation, and dedication to driving positive change within the marketing and fundraising community.
Partner of the Year: The DMAW Partner of the Year Award recognizes a company who has truly partnered with us in supporting the DMAW's mission in a variety of ways to include but not limited to: participates as a sponsor (via in-kind and financial donations); promotes the exchange of information among our members; promotes the use and understanding of direct marketing; and encourages and supports the teaching and study of direct marketing in an academic environment, as well as through the association itself.
Volunteer of the Year: Recognizes an individual's dedication and voluntary efforts to support DMAW.
COME CELEBRATE!
Recipients of the 2023 awards will be recognized at the
16th Annual Best of Direct Holiday Celebration & Awards Ceremony
Wednesday, November 29
National Housing Center
1201 15th Street, NW
Washington, DC  20005
5:00 PM - Program
6:00 PM - Awards Reception
Best of Direct is a fantastic recognition award event, as well as a great kick-off party for the holiday season! It's a phenomenal way to celebrate the year-end with colleagues and friends, as well as looking forward to a new year!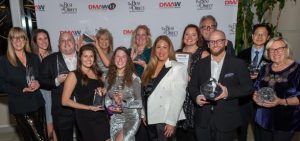 The 2022 Best of Direct Awardees!
From left to right starting back row:
Sara Coggins, Volunteer of the Year; Jamie Graves, Rising Star; Joe Goetz, Emerging Leader; Elise Buck, Industry All-Star; Teri Taylor, Industry All-Star; Marie Kosanovich, Board of Directors Superheroes Award; Tim Kersten, Partner of the Year; Dr. Dae-Hee Kim, DMAW EF O'Hara Leadership
Left to right, front row:
Jessica Stober, Rising Star, Rebecca Rich, Emerging Leader; Heather Philpot, DMAW President; Justin McCord, Partner of the Year and Marilyn Liebrenz-Himes, DMAW EF Jonah Gitlitz Board Appreciation