Welcome to Direct Marketing Association of Washington
DMAW members are nonprofit integrated direct response fundraisers, marketers, and engagement advocates. We offer educational programming, networking opportunities, and professional development. Our community includes anyone who works with or for nonprofits to better engage their members and supporters as well as those who aim to foster the next generation experts in this field. We look forward to meeting you!
2023 Marketing AdVents Media Kit is ready!
Click the image to the left or here for a pdf of the media kit
Topics for each issue have been selected!
Editorial calendar is set!
Select the issues that match your company's services and products!
For details, contact Terri Jones - TJones@dmaw.org.
OPPORTUNITIES
PARTNER PROGRAM
Connect with us. Membership is more than an investment,
it's a community, it's a network, it's leaders building future leaders.
All of the opportunities have been decided!
Select the programs which you would like to invest in today and
we'll take care of the rest for you.
The more opportunities you select, you receive discounts and
complimentary ads in Marketing AdVents!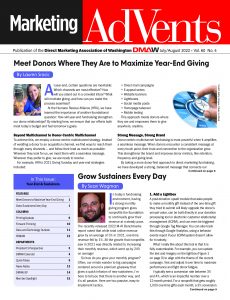 MARKETING ADVENTS is back in the mail!
We are thrilled to finally get our bi-monthly newsletter back in the mail to you! If you are a member and are not receiving your issues, please email info@dmaw.org and let us know! We'll check our records for your correct address and follow-up with you!
The DMAW Sourcebook is an annual, invaluable resource to DMAW members across the country and you need to be in it! We are beginning to line-up advertisers!   Click here for the 2023 Sourcebook advertising rates and to learn how you can increase your company's exposure to your target audience! Flip through the 2022 Sourcebook to the left and you will impressed by the listings and invaluable information - it's the place you want to have your company!
We understand many of you are still working from home (like we are!). That doesn't mean, though, you should miss out on all the "in-office advantages!" Please make sure we have your home address for mailing our newsletter, Marketing AdVents and the 2021 DMAW Sourcebook.
It's easy to do – create your account (if you haven't already) – just click here for instructions.
Once your account is created, to receive mailings at your home you can add your home address to your account.
While you're in your account, upload your photo – which is found just below the DMAW logo where it says "Logged in as:" – we love to our member's faces!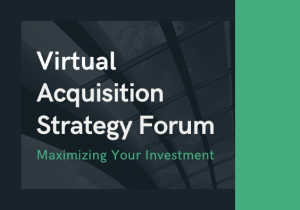 Blogs Kathy Swayze is the Creative Director and CEO at Impact Communications. She has worked in the direct marketing and fundraising fields for 30 years.…
Read More
Get Involved!
For information on sponsorship or volunteer opportunities, please contact Ann Walsh at ann@dmaw.org or call 703.689.3629