Fresh Ideas from "The New Art & Science of Donor Retention" Lunch & Learn
by Polly Papsadore, Senior Vice President of Business Strategy, PMG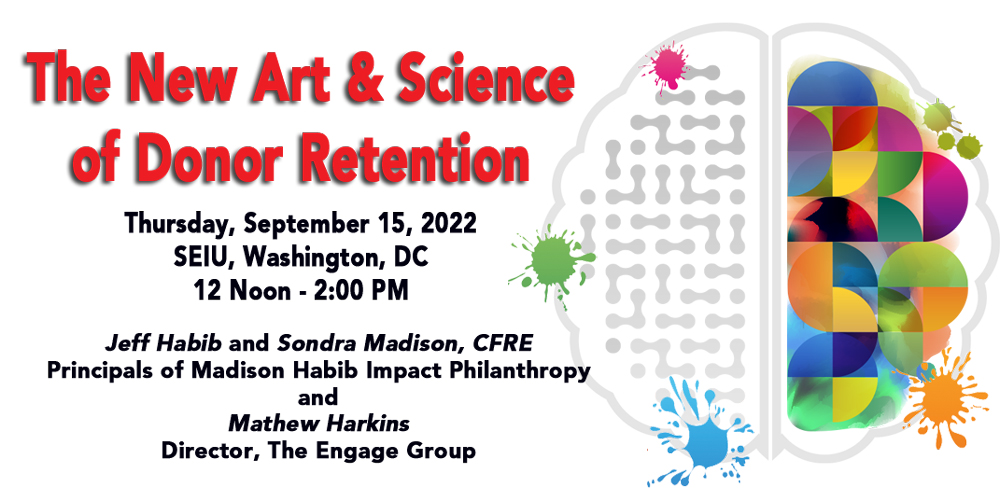 Capturing and using meaningful donor-first data drives future engagement. That's the key takeaway from last month's DMAW Lunch & Learn on "The NEW Art & Science of Donor Retention" presented by Sondra Madison and Jeff Habib of Madison Habib Impact Philanthropy and Mathew Harkins of The Engage Group.
Donor-first data points are what donors have shared, their preferences, the channels they use, their answers to survey questions, and additional useful information gained from in-person, phone or other contact. This donor data is accumulated (but keep only what you need) and used to better serve the donor in future interactions.
And better serving the donor means changing your thinking from "what can my donor do for me today?" to "what can I do for my donor to make their day better?"
Sondra, Jeff, and Mathew unpacked four categories of constituent-sourced data: Personal Data, Preferences, Mission Connection and Philanthropy, with helpful lists for each.
Personal Data includes the age of decision makers, children or grandchildren present, business affiliation, and special needs.
Preferences include contact best by email, phone, or text; frequency of contacts and asks, second home mailing address, and connections to other donors.
Mission Connection may include the reason for support, local vs. national interest, first involvement of mission and why, and are they involved because of family or friends, and volunteer activity.
Philanthropy includes other charities supported, support for religious or higher learning institutions, interest in legacy giving, giving vehicles like Donor Advised Funds and family foundations, and giving influencers like family, the economy and business interests.
Our expert presenters then discussed interest-based audience segmentation strategies using a health charity as an example: patients, caregivers, healthcare professionals, family member of patient, and family member or friend of deceased patient can each have customized communications.
These individual donor-first segmentation profiles were compared to traditional file-based segmentation strategies that place people in various buckets like New Donors, Lapsed Donors, Emergency Donors, monthly donors and so on. Donor-first audience strategies drive better engagement and value. Automation technology allows for greater complexity in these audiences, their donor journeys and program implementation.
Other fresh ideas presented include:
The critical importance of saying "thank you" promptly and frequently, especially while the donor is still experiencing strong emotions from giving. Make the Thank You multi-channel (direct mail, email, personalized video, etc.), create a Thank You landing page using donor-first data, and promote further interactions by encouraging donors to sign up for texts, volunteer, or visit the nonprofit's online shop.
Stellar donor service and recognition drive the next gift ask. For example:

Remember birthdays, anniversaries, and important dates that highlight your mission
Donor portals keep donors and the organization up to date
Have an "ambassador" reach out by phone to capture donor-first data points
These are just a few actionable insights from our talented presentation team from Madison Habib Impact Philanthropy and The Engage Group. We hope to see you at a future DMAW educational event. Check out the DMAW Events Listing (link) for the latest info.