Let's Make a Giving Day a Heartwarming Multi-Channel Success Story
by Angie MacAlpine, Vice President/Creative Director, TrueSense Marketing
If you've been in direct marketing fundraising for more than a few years, you've seen giving days grow exponentially in popularity. And not just GivingTuesday. Everyone is getting in on the action.
Personally, I love the energy, the excitement, and the challenge of a good giving day campaign.
That's why I'll be presenting "A True Underdog Story: How a Simple Campaign Grew Into a Multi-Channel Giving Day" at the DMAW Mini-Con with my colleague, digital strategist Meghan Sharon. It's the story of a giving day we helped build for K9s For Warriors, an incredible organization that rescues shelter dogs to save veterans.
K9s For Warriors partners with shelters to find good candidates for Service Dog training. The trained dogs are paired with veterans struggling with PTSD, traumatic brain injury, and other service-related trauma. The dogs become a Battle Buddy, a military expression meaning a partner in the field who always has their back.
The support these dogs provide has been proven to reduce anxiety and depression and give veterans a renewed sense of purpose, helping them become active participants in their lives again, and, in many cases, reducing the risk of suicide.
When a donor supports K9s For Warriors, they help save two lives with one gift – a rescued dog and a hurting veteran.
Now that you know a little more about the case for giving, let's get back to that giving day.
K9s For Warriors had a soft spot in performance in March, which is Brain Injury Awareness Month. The direct mail campaign used that as a theme and was holding steady, but the digital campaign was underperforming. We decided to abandon the direct mail theme in email and instead focused on the love, time, and expense that goes into each Service Dog.
The results were encouraging, so we opted for a larger digital campaign the next year. We were looking for something bigger than a one-off, themed campaign. We settled on a branded giving day.
Enter Battle Buddies Day, a giving day named in honor of the unbreakable bond between dog and Warrior.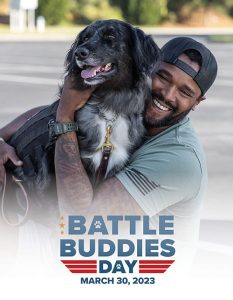 As results came in, we knew we had something promising on our hands. The success warranted going even bigger the next year in media investment, strategy, and creative.
What started as a single email three years prior, grew into an integrated, branded multi-channel giving day that today combines direct mail, email, paid social, display, and search. K9s even conducted a series of Facebook Live broadcasts throughout the giving day to generate excitement and create a telethon feel.
For a deeper dive on results, and a taste of what we're cooking up for Battle Buddies Day 2024, be sure to tune in and follow our friends at K9s For Warriors on social media. See you at Mini-Con!
Written for DMAW by Angie MacAlpine, Vice President/Creative Director, TrueSense Marketing
With a passion for writing and a heart for helping others, Angie MacAlpine has worked in direct marketing fundraising for nearly 20 years, using her creative powers to make the world a better place. She has produced award-winning and, most important, effective multichannel fundraising campaigns for both national and local organizations whose missions include hunger-relief, animal welfare, health care, military, social justice and more.