Navigating the Digital Horizon: My Takeaways from the 2023 Bridge Conference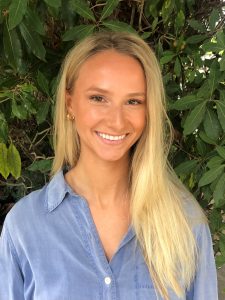 Liv Tupanjanin, Senior Account Executive, Mal Warwick Donordigital
Liv Tupanjanin is an Online Senior Account Executive at Mal Warwick Donordigital, specializing in digital fundraising. Find her on LinkedIn here: https://www.linkedin.com/in/livtupanjanin/.
In today's rapidly evolving world, the intersection of technology and philanthropy has paved the way for groundbreaking opportunities in the nonprofit sector. Recently, I had the privilege of attending the highly anticipated Bridge to Integrated Marketing & Fundraising Conference, an annual event that provides a platform for nonprofit professionals to gain insights, stay updated on industry trends, learn from successful case studies, and develop strategies to effectively integrate marketing and fundraising efforts for greater impact.
At the Bridge Conference, participants have the opportunity to attend a wide range of workshops, sessions, and keynote presentations led by industry experts and thought leaders. I focused my attention on the digital sector – a realm that has become the linchpin of modern fundraising and engagement efforts for nonprofits. While some sessions reinforced my existing knowledge, others sparked fresh concepts and ideas. In this blog post, I aim to share a selection of insights I gained from the Bridge Conference, specifically centered around the digital sphere.
Peer-to-Peer Texting
If you are not incorporating peer-to-peer (P2P) texting in your donor engagement efforts, it is time to start. P2P texting is a powerful tool that breaks through the clutter, establishing a direct connection with donors via their mobile phones – devices typically within reach at any given time. Texting can be incorporated into many forms of donor communication including deadline-driven fundraising appeals, renewals, automated follow-up, and ongoing engagement.
Presenters Jackie Biancolli Libby from Avalon Consulting, Jamie Doughty from The John F. Kennedy Center for the Performing Arts, and Lauren Sracic from Humane Rescue Alliance unveiled ways to harness the power of peer-to-peer texting in their session, "Wyd? How to Make P2P Texting Your New BFF."
Key Takeaways:
Longer texts have been outperforming short texts in A/B tests.
Including URLs in the initial text is no longer posing a threat to deliverability, and can boost performance.
Incorporating personalized elements such as the donor's last gift date and amount within text messages creates a tailored experience, fostering a stronger sense of connection.
Signing texts with a specific individual's name adds a personal touch, mirroring the familiarity of email signatures.
YouTube Advertising
YouTube advertising offers numerous advantages for nonprofit organizations looking to enhance their outreach, engage with audiences, and achieve their goals. With 2.1 billion active monthly users, targeting and optimization based on Google's data, and the fact it can be more cost-effective compared to traditional advertising method, YouTube may be worth testing.
Presenters Daniel Williams from Further and Jasmin Stuckey from Green Peace explored best practices in YouTube advertising in their session, "YOU Can Have Success Fundraising with YouTube."
Key Takeaways:
Ads should be 30 seconds or less.
Introduce your organization within the first 5 seconds.
Include music or a voiceover.
Include a donate button and URL at the end of the video.
Test, test, and retest.
Automated Journeys
Automation is a valuable tool for nonprofits, enabling them to deliver personalized, timely, and relevant content to supporters at various stages of engagement. By using automated journeys strategically, nonprofits can enhance communication, build relationships, drive fundraising efforts, and achieve their organizational goals more effectively.
Presenters Maan Sacdalan from National Trust for Historic Preservation, Eric Rubin from Engaging Networks, and Gabby Green from The Humane Society of the United States offered actionable ideas on implementing automation and journey building in their session, "Automate This! 10 Ways Multichannel, Automated Donor Journeys Will Change Your Life."
Key Takeaways:
Onboard new supporters to the email file by creating custom welcome series. New subscribers, new one-time donors, and new sustainers should all receive unique content tailored to your goals.
Automate recapture series to recently lapsed sustainers asking them to update their payment method.
Automate recapture series to long-time lapsed sustainers asking for a new sustaining gift.
Automate a series targeting donors giving multiple 1x gifts with a sustainer ask.
Automate a re-engagement series for inactive email subscribers.
Think of ways to be creative, like automating an email series to say happy birthday to your donors!
These takeaways offer a glimpse into the digital fundraising trends discussed at the 2023 Bridge Conference. The overarching theme was that the digital landscape is a constantly shifting canvas, offering both challenges and possibilities in equal measure. And staying up to date on digital fundraising trends is crucial for nonprofit organizations seeking to thrive in today's rapidly evolving technological landscape.
To learn more about the 2023 Bridge Conference sessions and presenters visit the event page.