Navigating the Monthly Giving Unknown
by Erica O'Brien, co-owner of Fuse Fundraising Group
Monthly giving is like space exploration….a few years ago, very few were doing it, but today, everyone is.
The reason is clear.  These mighty programs are well-known for their powerful metrics and ROIs.  And with growing external disruptors fueling additional fundraising challenges, established monthly giving programs provide organizations a reliable source of monthly revenue.  Other monthly giving program benefits include:
Yet having a successful recurring gift program is more nuanced than one might think.  In fact, going back to the space analogy, it's almost like a different life form — with different terminology, diets, and health challenges compared to a one-time giving program.
That's why the best way to optimize a monthly giving program is to begin with the business process.  While perhaps not as fun as thinking about new channels to try, focusing on the details will give your program the biggest and most lasting, lift.  In fact, I would go so far as to say – spend no money on something new until you have tested what is true.
Get started by thinking about the backend process in three main buckets: experience, value, and recapture.  For monthly giving, in particular, each of these represents critical touchpoints between the organization and a highly valuable monthly donor.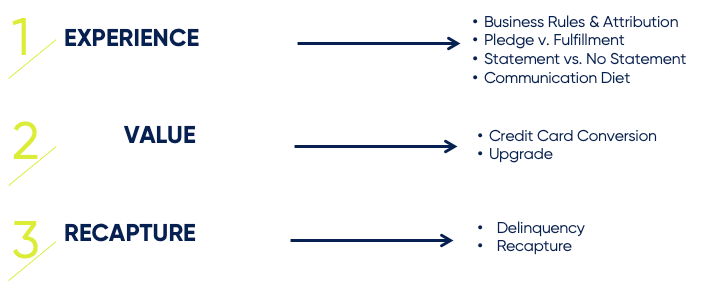 EXPERIENCE: We can all agree that identifying and focusing on experience is important for any donor – especially high-value monthly donors. And to create specific donor journeys, there must be a level of agreement on attribution and business rules. While attribution in and of itself is the key question for many, determining some basic rules and assumptions is essential to this process.  From there, donor journeys can be mapped and phased in if needed.  Consider elements such as communication diet — there should be an intentional balance of communications with sustainers in order to deepen their connection with the organization.
VALUE: Moving donors up and through the continuum of giving remains a priority for monthly donors. And while it is true that sustainers tend to have a much higher long-term value and retention as compared to their one-time gift counterparts, there are still several key ways to incrementally increase monthly donor value, including payment method conversion (ideally to ACH), as well as an upgrade offer.  Of course, these donors are also great prospects for planned giving lead generation.
RECAPTURE: Because monthly donors are so valuable, great care should be taken to retain and reactivate lapsed monthly donors.  For sustainer programs, lapsed/at-risk strategies are a bit different than traditional best practices for one-time giving. These special strategies are often called 'Delinquency Strategies' and may include triggered communications at 30-, 60- and 90- days since the last gift. These routinized efforts are a great way to scoop up donors at risk of lapsing out of the program.
As each of these elements is confirmed and mapped as part of the larger program, it's important to "test the system" (i.e make a gift across all your channels in market, and across various payment methods, etc.) to best understand what the current process is, vs what is thought to be.  While this may seem like a significant undertaking, testing the systems is one of the best ways to understand what is happening within a monthly giving program.  There really is no replacement for first-hand experience.

In addition to process, another area that can help elevate your monthly giving program is leveraging the "sell."  Consider asking yourself these four questions in order to really optimize the creative, message, and offer.
What's the challenge? Framing up the challenge is critical to engaging donors and promoting action.
What's the story? Developing effective storytelling doesn't just drive giving, but also helps to connect and bond donors to your organization.
What's your brand's competitive difference? The competition within the nonprofit marketplace continues to grow with each passing year. Distilling your competitive difference and zeroing in on that within the "sell" is essential.
What is the role of the donor? Finally, being clear on why the donor is needed helps to secure that important monthly commitment.
Other important "sell" factors include whether your monthly program has a club name, and what benefits might be associated.
And because recurring gift programs really are a different breed, the way in which we measure their success must be different.   Factors like breakeven analysis, long-term value by acquisition channel and payment method, and retention by acquisition class are just a few of the important measures.

The above barely scratches the surface of this unique program, and I could spend hours and hours talking about each element noted above.   And while monthly giving programs are highly nuanced, they are more than worth the effort.
These powerhouse programs deliver big results the more love and care they receive — so don't hesitate to put your resources into sustainers. They'll pay you back month after month.