Innovative Formats Integrated Techniques Forum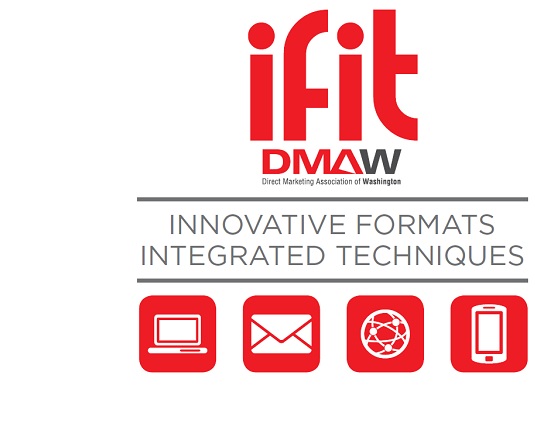 You won't find a better 'bang for your buck' than at the DMAW Innovative Formats and Inventive Techniques Seminar on Tuesday, March 7, 2017. Meet face-to-face with some of the industry's leading suppliers and learn what is working and what is not? PLUS, receive a carrier filled with samples of the featured packages and ideas to take back to your team for further brainstorming – which could lead to your next great marketing campaign idea and make 2017 your best marketing year ever!
What is it? The DMAW Innovative Formats Inventive Techniques (IFIT) Seminar is a critically acclaimed event designed to put supplier/manufacturers and clients in a comfortable one-to-one setting examining what's new, what's unique, and what's working in the mailbox.
When: Tuesday, March 7, 2017 from 9:00AM – 2:00 PM
Where: NRECA in Arlington, VA
Who should attend: Art Directors, Copywriters, Marketing Managers, Membership Directors, Production Managers, Creative Directors, Circulation Directors, Donor Development teams...
How does it work? You'll hear 10-15 minute presentations from more than a dozen experts who will demonstrate their products, powerful premiums, and truly unique ideas. You'll learn such key details as estimated costs and leadtime to help you determine which formats will produce results for you or your clients. The carrier you received will be filled with samples of the featured packages to take back to the office – the perfect item to jumpstart your brainstorming session for you and your team!
Once the supplier presentations conclude, you'll have time to meet one-on-one with presenters to find out more about the packages that interest you.
If interested in applying:
Fill out the attached Presenter Application Form for each format/campaign you are submitting (limit of 5). If you are chosen, a maximum of 2 formats/techniques will be selected for presenting.
For all traditional direct marketing formats, please send the form(s) and 5 print samples by Thursday, December 15, 2016 to: DMAW, Attn: Shannon Murphy/Elise Buck, 11709 Bowman Green Drive, Reston, VA 20190.
For all interactive campaigns, also attach the form(s) and a PowerPoint with examples that explain your campaign and technique and email to eerik@dmaw.org by Thursday, December 15, 2016. Subject line should read: Submission for IFIT Forum 2017.
There is NO COST to submit your interactive format/integrated campaign to the IFIT Committee. (The IFIT Review Committee is made up of seasoned marketing and development professionals, consultants, production specialists and service providers.)
You will be notified if you have been selected to present by Wednesday, January 18, 2017.
IFIT Package Format Application (Digital and/or Integrated)             IFIT Package Format Application
Presenter Benefits
10-15 minute presentation to the attendees
Reach and network with over 125 decision makers one-on-one
At the time of your presentation, your format samples/campaign will be distributed to each attendee
Two (2) complimentary registrations
A "table top" display to showcase your product & services
Host of one of the luncheon tables
Company name or logo on promotional material
Company Logo/Link on DMAW Home Page
Acknowledgement during welcome
Logo on event signage
Post-Event Attendee Mailing List (does not include emails)
What's Next?
If you are selected to present, you will be required to pay your registration fee AND submit 125 format print samples or printed campaign fact sheets of your package(s) by Wednesday, February 8, 2017. These will be distributed to each attendee as you present at the forum.
Here's the Event Information
What: DMAW Innovative Formats Integrated Techniques (IFIT) Forum
Where: National Rural Electric Cooperative Association (NRECA) -- 4301 Wilson Boulevard, Arlington, VA 22203
Date: Tuesday, March 7, 2017
Time: 9AM-2PM
How Much: $750.00 to present (includes two registrations)
If you have any questions, please contact Shannon Murphy at 703-302-8270 or smurphy@ccah.com or Elise Buck at 443.539.2676 or elise@mailsmartlogistics.com