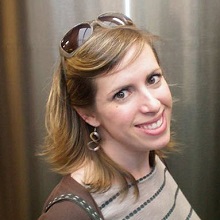 Brenna Holmes is Vice President of Digital, Interactive Department, Chapman Cubine Adams + Hussey (CCAH). CCAH is an award winning multichannel direct response firm specializing in nonprofit fundraising. Brenna leads the Interactive Department's digital and mobile teams, delivering multichannel integration and SMART digital acquisition. She possesses an extensive background in cross-channel marketing and advocacy integration and is equally at ease starting a digital and/or mobile program from scratch or taking one to the next level. Her specialty is creating unified surround sound campaigns that maximize supporter engagement and organizational loyalty by integrating traditional direct marketing with innovative digital media.
She also oversees CCAH's growing digital team, manages the company website, Industry Voices blog and social media accounts: Facebook, Twitter, LinkedIn, YouTube, and Google+.
Since joining CCAH's Interactive department, she's built up the digital team and mapped the online advocacy and fundraising strategy for clients such as the MADD, California State Parks Foundation, People For the American Way, Environmental Defense Fund, Sierra Club, City of Hope, The Trust for Public Land, and others.
In her previous life, she worked in digital brand management and public relations and on several successful PURL campaigns for fundraising, advocacy, and GOTV efforts. She has two master's degrees from top three programs at Syracuse University; the S.I. Newhouse School of Public Communications in public relations and the Maxwell School in public administration. She is also a Napa, CA native and is an avid wine enthusiast.
Back to Digital Day Forum Agenda