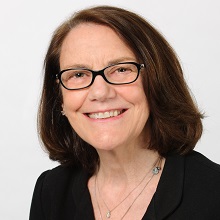 Robin Riggs, an award winning creative director and copywriter, serves as Chief Creative Officer of RobbinsKersten Direct. She believes the best fundraising creative comes from the heart and the mind. Robin has the unique ability to be data-driven while developing innovative, multi-channel creative strategies for agency clients.
In addition to leading the creative team, Robin also serves as senior copywriter on several client programs. Her diverse brand and direct marketing expertise cover the gamut of print and digital media for commercial and nonprofit organizations. Her prior work experience includes being President of Arnold Direct, the direct marketing division for Arnold Advertising, head of Cabot Direct within Cabot Advertising, and Executive Creator Director at Epsilon, a leading marketing solutions provider. Robin speaks regularly at national and regional industry conferences.
Every year, she and her teams win record numbers of awards at the New England Direct Marketing Association (NEDMA) awards for creative excellence. In the last three years, she has won the top NEDMA awards for direct marketing and digital copy.
Robin currently serves on the Board of Overseers of the Handel and Haydn Society in Boston and served for many years as a Trustee of Thompson Island Outward Bound.
Back to Digital Day Forum Agenda