Gratitude in Uncertain Times: 12 Tips to Show Donors They Matter
Gratitude in Uncertain Times: 12 Tips to Show Donors They Matter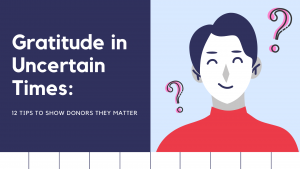 As we write this from our home offices in Maryland and Virginia, incredible staff at the nonprofits we care about are scrambling to figure out how to continue driving their missions through the COVID-19 pandemic. We are speaking with clients throughout the day to do our best to support them during this difficult time, and to ensure they can still raise the critical funds needed to achieve their missions.
Based on these conversations, and important insights from industry veterans who have been through fundraising during the aftermath of 9/11, the 2008 recession, and other global events, we are sharing what we hope will be helpful to you and your colleagues as you weather this storm. One theme of discussion is the importance of showing gratitude to supporters. We know from studies such as Learning to Say Thank You by the Institute for Sustainable Philanthropy that donors who are cultivated and thanked are more likely to give and retain. Some quick tips and ideas:
1. Ensure every communication shows appreciation to supporters and why their donations and actions matter. For instance, we've seen some great examples from organizations putting a special "love note" at the top of each message.
2. Find a way to connect current events to your mission and programs, even if you're not part of a frontline health-related organization. Animal welfare nonprofits are being inundated with pets in need as people lose jobs. Environmental nonprofits are advocating against oil company bailouts and providing learning resources online. You are doing important work that matters now just as it did before.
3. Get back to basics and best practices, such as using language focused on the supporter's impact vs. the nonprofit. Connect the dots for supporters by using the magic word, "you."
4. Segment and personalize messaging, especially for high-value donors, sustainers and super advocates, if you're not already. Promote opportunities for them to speak directly with leadership to answer questions, join a live session with program staff, and respond directly to your mass email inbox (see #11 below).
5. Make personal phone calls to top donors — think of including your sustainers in this — thanking them for their support and letting them know how their funds are being used and why they're needed, now more than ever.
6. Provide opportunities to support your mission outside of financial giving to keep supporters engaged and feeling like they are making an impact, even if they can't give at this time.
7. But don't stop fundraising — whatever you do. We've learned from past events that organizations that keep up the momentum, with smart content and relevant messaging, fare the best through uncertain times. We know organizations that stopped investing in donor acquisition and list growth and were scared to communicate that have still never recovered. With less competition in paid media, the right message can reach new audiences and re-engage current donors who are spending even more time online.
8. Relatedly, try to avoid fundraising by committee if you can. You know what works — keep the heart in your messaging and follow your own data.
9. This is a great time to promote sustaining gifts to recent donors and/or (even better) modeled prospects. Your organization is in this for the long haul, and a sustaining gift ensures donors have long-term impact and are consistently supporting the mission as needs arise.
10. Review your welcome series to ensure it clearly communicates the impact of your organization's work and thank your supporters for connecting with your organization and your donors for their generous support. When in doubt, keep it simple: create a series of one to two messages that speak to the current environment, thank them and ask for feedback.
11. Now more than ever, it's important to pay attention to the feedback you will receive through all the ways your donors will find you. Make sure you're checking that reply-to email address on your outbound communications, the general contact email address that's published on your website, the inbox on your organization's broadcast SMS, and the comments on your organization's social presence, for a start.
12. Have you done a recent search for your organization's name on Google and Bing? You probably have an evergreen search marketing brand keyword campaign that's live. Make sure the content is high-impact, relevant, and provides a clear call to action to the audience.
While the list above isn't all-encompassing, we hope it gives you some food for thought and, if anything, reassurance that you're doing things right. Recent events have shown us that we all need human connection. Our community, loved ones and our pets are part of our voice, so don't be afraid to get personal in your communications to supporters as well. And with that, here are pictures of our furry colleagues. Stay safe and healthy and keep up your incredible work.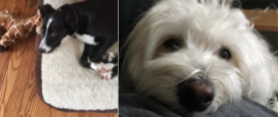 Adva Priso is a Senior Vice President at CCAH, where she leads digital fundraising programs for nonprofits and the nonprofit advertising department. She can be reached at apriso@ccah.com.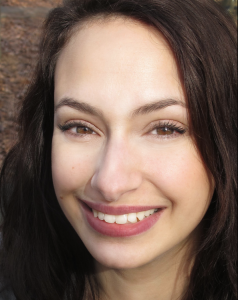 Van Do is a Senior Strategist at CCAH, where he leads digital fundraising programs for nonprofit clients. He can be reached at vdo@ccah.com.