Nominations Open for 2016 Hall of Leaders Award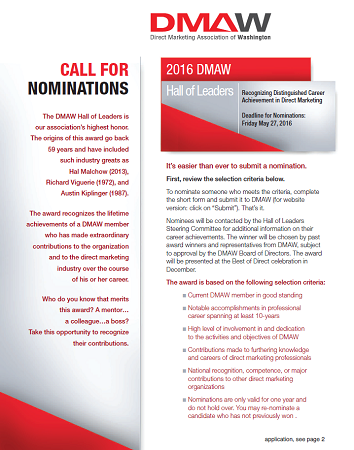 DMAW's highest honor is the Hall of Leaders Award recognizing distinguished achievement in direct marketing. This prestigious peer recognition has been given annually for 59 years.  The award recognizes the lifetime achievements of a DMAW member who has made extraordinary contributions to our organization and to the direct marketing industry over the course of his or her career.
All nominations must be received by May 26, 2016.
Any member of DMAW can nominate a candidate for this award. No caucuses, no primary. Just visit the Awards section of the DMAW website for award criteria and online nomination form.
Last year's winner was Rick Powell, founder and President of Production Management Group and a long time supporter of DMAW and DMAWEF. Former winners include Hal Malchow, Liz Murphy, Richard Viguerie, Austin Kiplinger and Pat Silver.
The award will be presented at our annual awards presentation, The Best of Direct, in December 2016.

Syma Mendelsohn won the Hall of Leaders Award in 2010.  Before retiring, Syma was the Senior Vice President of RCM&D, Inc. She can be reached at symamendelsohn@gmail.com.