Not just for newbies! – What I learned at DM 101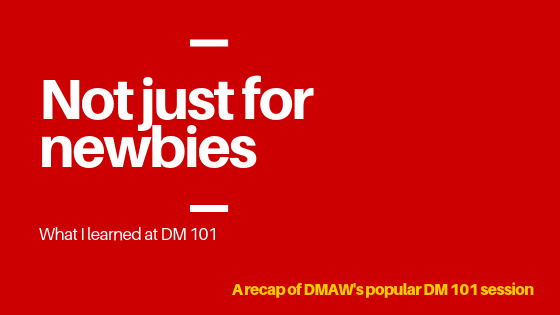 Normally I wouldn't have signed up for this particular seminar. After all, I've been in the industry for more than "just a few" years . . . although I'll never admit to exactly HOW many years. Let's just say I started back in the old days – before email, before online marketing, before much of the sophisticated direct mail campaigns that are being done today. It was down and dirty work, in the back room of an upstairs office of a local mail shop, complete with dark wood paneling and orange tile floors. Yes, the good old days for sure.
But on this particular day, I was attending to bring two of my own "newbies" down to the seminar. Since they didn't know anyone in the industry and big city driving wasn't really their thing, I figured I would make the effort and perhaps skip the session (gasp!) myself, or at the very least perhaps work in the lobby for a bit to keep up with things for the day.
But shortly after things started, I found myself actively engaged in the presentations. It was helpful to hear how things were being presented to the attendees, and, after taking 18 little note-book sized pages of notes throughout the day, I realized that there were some things in other parts of the direct marketing cycle beyond my own personal direct mail production knowledge, that were useful to know to understand how all the various pieces work together.
My top 5 takeaways for the day:
The 7 Elements of Fundraising Success, culminating in the statement, "Be the solution," (Ann Senft, Avalon Consulting Group).
That effective copy should be written for an 8th grade reading level (also from Ann's presentation)
That 98% of people in the US check their mail daily! (Tom Fleming, Data Acquisition LLC)
It's a good idea to test mailing to deceased hits, to spark those, "In memory of," donations (Lori Barao, MMI Direct).
and that setting up a post office box for business and courtesy reply mail is costly! Up to $1600 a year (Robb Wanner, DMP)
And those were just a few high points. The whirlwind Production Services portion presented by Leigh Ann Doyle of PMG could have been a full-day session on its own!
When the day wrapped up and I said goodbye to several clients and vendor contacts as well, I contemplated what an enjoyable, "big picture" day it had been. And I realized just how much folks who are new to the industry need this type of information, and industry experts such as the individuals who presented DM 101. This type of content is most definitely not just for newbies: It's for anyone who would like to gain a bigger understanding of how the pieces of the puzzle fit together in direct marketing – and that's a relevant topic for all of us, no matter what our backgrounds!
If you missed this session, no fear! You have a second chance to gain all of this valuable insight at the DM 101 session in Philly on  Wednesday, April 3. Register before it fills up!
---

Sylvia Taylor is the Director of Marketing and Client Relations at ProList and can be reached at 301-924-4545 x 1017 or staylor@prolist.com .