DMAW Digital Day Forum – You Can't Afford to Miss This
by Brenna Holmes
Digital-based media is the fastest growing medium – just think of all the screens we interact with each day! And if your organization isn't proactively weaving its many facets (it's soooo much more than email…) into your marketing and fundraising mix, you are missing the boat – and leaving tons of money on the table or dock as it were.
Technology constantly changes, iterates, grows and new opportunities surface with new approaches for implementation practically daily. You can't afford to miss what you do not know!
This means, you should join us for the 2nd Annual Digital Day Forum! October 21st will be a day of digital marketing success stories, networking, and tips to help YOU grow your program. Whether you're looking for content marketing, design, analytics or fundraising, we promise – you'll take something away from our lineup of sessions.
You'll gain valuable insight from your peers and be able to ask the questions that plague your programs.
Do you know how to use your digital data to drive strategic investment choices? Or how UX affects you, your supporters, and your programs? How to best build a social media strategy OR how to take your current programs to the next level?
Experts from the Environmental Defense Fund, Woolley Mammoth Theater, Ready for Hilary, National Trust for Historic Preservation, Ducks Unlimited, Tech Girlz, ASPCA, World Wildlife Fund, and many, many more amazing nonprofits will be speaking and available to answer the above questions and more!
And don't forget our marvelous keynote speaker, Garth Moore, the US Digital Director for the ONE Campaign. You'll want to stay all the way to the very end to hear what he has to say!
Digital Day Forum has been designed specifically for you. To provide you with both the essential information and pro-tips needed so you can craft the best campaigns possible. I personally promise you will learn something new; and will leave equipped with the tools and techniques required to develop the best digital marketing strategies for your organization.
And, new this year – nonprofits can register at a special discounted rate! I hope to see you at Digital Day Forum on Tuesday, October 21st!
_____________________________________________________________________________________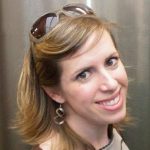 Brenna Holmes is the chair of Digital Day and the VP of Digital at Chapman Cubine Adams + Hussey (CCAH), an award-winning fully integrated direct response firm, specializing in nonprofit fundraising and supporter engagement. You can reach Brenna at 703-302-8250, @bfholmes, or bholmes@ccah.com