by Jim Chmielewski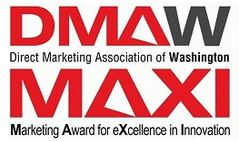 With the beginning of the New Year upon us, it is "MAXI Time" once again.  This is an exciting time of year where direct marketing agencies, non-profit organizations, digital and telemarketing firms, etc.  can review the work they did over the past year and reward their most successful efforts by entering them in one of our industries' most prestigious competitions – the DMAW's MAXI Award. Mark your calendars.  The date of 2014's MAXI Awards is July 9th.  This is the night before the 9th Annual Bridge to Integrated Marketing and Fundraising Conference.  Both will be held at the Gaylord National Hotel and Conference Center in National Harbor, MD.
Please note that because of the earlier Conference date this year, the MAXI entry deadline has been moved up accordingly.  All MAXI entries are due no later than COB Thursday February 20, 2014.
Having trouble filling out the forms? The DMAW can help you.  A MAXI Webinar has been set up for Tuesday January 28, 2014 from Noon to 1:00PM EST.  You will be able ask any question you want — from what channel should you submit your program to how do you fill out the forms.  The webinar is free of charge and will be led by Amy Sukol from Lautman, Maska, Neil and Company and Krista Harte-Sassaman from the Lukens Company.
So, make plans now to reward all of your hard work with a chance to win the ultimate prize – a Gold, Silver or Bronze MAXI.  If your idea is groundbreaking or creative or new, you may even be considered for the DMAW's MAXI BIG IDEA Award. Enter today.  Also, make plans to attend both the 2014 MAXI Awards ( July 9th) and the 9th Annual Bridge Conference (July 10th and 11th) at the Gaylord at National Harbor.  Hope to see you there!!!!