May is DMAW Membership Month!
May is DMAW Membership Month!  When you renew your membership, anytime between May 1 to May 31, you will automatically be entered for a chance to win a complimentary 2013 Bridge Conference Registration.  This includes full access to both days of the conference, with 70+ educational sessions, over 100 services providers in the Solutions Showcase and three great keynotes!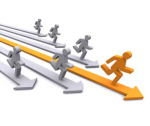 DMAW membership gives you the professional push you need to Spring into Action and pull ahead in your field.
Your DMAW membership entitles you to member-only discounts, our monthly newsletter, Marketing AdVents, the Sourcebook, Job Exchange and much more. Take advantage of the great DMAW educational and networking opportunities already scheduled for 2013.
As a special bonus…beyond being eligible for the grand prize when you renew, you will also be entered to win one of our other great weekly prizes such as Wolf Trap tickets, a registration to a DMAW Monthly Lunch & Learn, Great American Restaurant & BLT Steak gift cards and other terrific prizes!
So join our annual membership celebration – Act Now! Join Today or Renew your DMAW membership during May Membership Month!