The Scoop You Need on the DMAW MAXI Award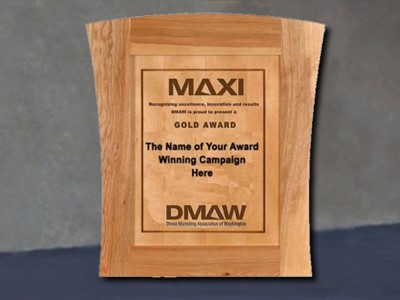 Just a few things that should be on your calendar this February
Groundhog Day.
Valentine's Day.
President's Day.
DMAW MAXI Award Deadline.
As you probably noticed, one has already passed and the next three are very quickly approaching. It's time to be recognized for all the work you've put in this past year. All the writing and rewriting, and working and reworking that you've done to create something better than you've ever had before. DMAW wants you to show them what excelled, what created the results. Here is the scoop from the FREE Webinar: How To Enter a MAXI.
Results. The MAXI awards are results driven. One of the most common reasons entries are disqualified is because the results were not submitted. The results are something you should be proud to show off! These are the awards to display your best. It's a point based system, so if you've earned gold, you deserved it.
The MAXI awards are also judged on strategy. You will have an opportunity in the submission form to explain what you were trying to accomplish and how the results reflected it. Was the achievement an increase in donations? An increase in enrollment? You tell us what you were trying to do and how you were able to do it. Make sure when you submit the sample, that you black out your agencies name (if it appears on the sample). The award submissions are judged anonymously, so even though your agency is super-awesome, the work will be able to stand for itself.
Also, don't forget to finish the entire form! You have done such great work to have it disqualified because you forgot to finish the form before sending it in. Make sure to have another person look over it, just to insure you don't miss anything. The results section is an important section to have a coworker look over for you. The calculations and results you give will be fact checked, so be sure to be accurate with your expense and net.
The other judging points will be based on Innovation, Creative & Technical Execution, and User Experience. All of these aspects are what creates effective campaigns. When submitting your entry or entries, don't forget to submit three samples (with the agency name blacked out). Payment should also be sent with one entry, just make a note if you are sending payment for multiple entries. Entries without payment will not be considered for the awards.
Enter now! The deadline is February 20, 2015!
Caitlin Collinsworth is a Marketing Assistant at Silver Marketing, Inc. She can be reached at (301) 951-3505 or at ccollinsworth@silvermarketing.com