An Open Letter to Association Marketing Leaders – What I Want to Learn on September 30, 2015
Association Marketing Day — Wednesday, September 30 in Washington DC — Learn More!

Dear John Graham,
I hope you see my open letter to you as head of ASAE, the American Society of Association Executives. Yes, John, you frequently make yourself available to members and the public, but I'm excited about hearing you in this very special panel discussion September 30 focusing on the issues and challenges facing C-Suite association executives for 2016, 2017, and beyond—what happened during 2015 that might make us rethink our membership goals? Our conference goals? Our global expansion goals? What happened during 2015 to reinforce strategic plans we rewrote after the financial devastation of 2009? What trip wires do you set to alert you that the strategic plan might need adjusting? How do you chart the course for such a successful organization, composed of such diverse membership? What should associations expect from Congress coming months?
Dear Vicki Deal-Williams,
Same questions but with a different twist. Vicki, you are an industry leader in diversity and inclusion, helping us turn vague-and-swishy questions about what is the right thing to do into what is the smart thing to do to position an association to become (or remain) a thought leader, a place essential for new-to-the-profession practitioners to belong throughout their careers and a place where association professionals want to serve on staff? How do you help us find new volunteers who can bring new ideas to our programs and magazine pages? I want to be there September 30 to hear you talk about how you and ASHA, the American Speech-Language-Hearing Association, were able to accomplish so many mindset changes and to see and hear your vision for the next few years, including making way for Millennials (in membership, on the Board, and in the association's workforce) when Boomers (like me) just aren't leaving.
Dear Peter O'Neil,
I will be fascinated to hear how you manage to always be available for extra volunteer work (like this event) and smiling despite leading the American Industrial Hygiene Association (AIHA) through the dramatic changes in your membership's workplaces by the Affordable Care Act and how AIHA has helped your members learn and adjust over recent years. How do you lead your staff through such tricky waters? What advice do you have for those of us at associations in the healthcare sector about the next set of changes and challenges we need to prepare for—and help our members prepare for–in 2016 and beyond? What can I learn from you to bring it back to my own busy world?
Dear Julie Coons,
I love the other panelists but you are truly someone I am excited to hear because at the Electronic Retailing Association (ERA), you connect everyday with some of the top practitioners in my field of direct marketing. How do you manage to keep your relatively small staff focused at this trade association while connecting with and providing benefits and services to….folks like me who are very metric-minded, who know how to twang someone's heartstrings and am thus resistant to having my own chain jerked by a marketer? How do you keep ERA's needs in front of Congress? How do you keep your association vibrant and growing?
Dear Jodie Slaughter,
I love the Economic Impact on Associations Report published annually by you and your team at McKinley Advisors. I am eager to hear you guide the panel if luminaries on comparing the January 2015 findings to the September 2015 realities. And I want to be there in person September 30 to hear you quiz John, Vicki, Peter, and Julie on whether they still feel the optimism that was voiced in the 2015 Report; did new member acquisition remain a focal point for association activity as predicted in January; are retention rates continuing to improve following the devastation of 2009; have associations continued to provide expanded programs and services while still operating on shrinking budgets? What an amazing way to start an impressive day.
Dear DMAW Association Marketing Day,
I know I am placing a tall order for you to fill during the first session of a day-long program, but from what I have seen and heard I know you can do it! I'm thrilled to attend a day crafted specifically for direct marketers like me, who work in or around the association membership and marketing space. I look forward to seeing my association pals all day at the Capital Hilton Hotel—it's so convenient to reach by Metro and walkable from hundreds of association offices in the DC area.

Most of all, I can't wait to see how many new ideas and techniques I will bring to work with me on October 1 after attending the September 30 event.
Be sure to save my seat — register me today at www.DMAW.org.
Best regards,
Barbara J. Armentrout, CAE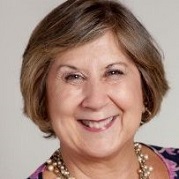 Barbara J. Armentrout is the Relationship Director at Marketing General Incorporated (MGI). She can be reached at BArmentrout@MarketingGeneral.com.
#AssnDay15 #theDMAW #AssociationTrends #directmarketing #membership #marketing #directmarketing #associations