Building Trust with Squirrels Using Baskets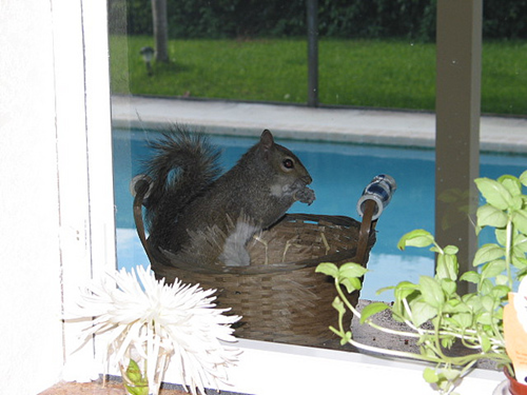 (Photo credit: Gabi Lamerti)
After attending the DMAW Social Media Summit (learn more via the hashtag #DMAWsocial on Twitter) I have been enlightened on some of the most important marketing lessons we as online fundraisers and marketers should follow.  While building trust with squirrels doesn't always sound like something we want to do, after this post you will understand why it's important and how to do it. Now, please join me as I share the DMAWsocial secret to building trust with squirrels using baskets.
1. "DON'T ask before you say Hello!" As keynote Liz Strauss explained, building a trust relationship with your customers or donors is extremely important to being successful with marketing your product or asking for a donation. Whatever you are asking for should match the level of trust in the relationship. You wouldn't ask a person you just met to sleep with you, and the same principle should be practiced while asking for a donation or selling your product. Take the time to get to know your customer or donor and build a level of trust through invitations before you start asking. For more don'ts, visit Liz's blog.
2. Mobile users are squirrelly! Mobile users will only stay on your mobile campaign, rather it be an email, blog, website, etc., if it is easy to navigate and a one or two-step call to action. Jon-Mikel Bailey described how to capture this phenomenon by thinking through all of the channels consumers use to get to the final campaign goal. A great campaign can fail if it is not tested from the perspective of the end user, so it is important to take the time to try multiple different smartphones while testing the experience the user would have before launching a campaign. The plan of attack for mobile components of a campaign should include large buttons that have plenty of space around them, only the necessary facts, obvious direction for the user to follow, and an obvious call to action. With sufficient testing, this plan of attack will allow the squirrelliest mobile users to complete the campaign's goal in no time without jumping to something else that's shinier.
3. As Geoff Livingston detailed, marketing and fundraising campaigns should resemble a basket with many pieces sequenced and woven together. When the customer or donor receives all of the woven pieces, they should experience the basket. In other words, a campaign should be made up of integrated channels (the pieces of the basket) and delivered in a certain pattern (weaving the pieces together), so the end user experiences one effective campaign (a basket). The marketing and promotions through Facebook, Twitter, email, direct mail and mobile should all have the same look and feel and direct the consumer or donor down the funnel and to the call to action.
Now that you've read the DMAWsocial secret on building trust with squirrels using baskets, do you have any other techniques to build relationships with your squirrelly customers? I'd love to hear them. Please feel free to leave them below or contact me through any of my basket pieces.
____________________________________________________________________________
About the Author: Danielle Hart is an intern at The Engage Group and student at Salisbury University studying Marketing and Environmental Studies. She can be reached at Danielle@Engageyourcause.com and found at www.daniellehart.com.