Charitable Giving: Donors Focus On One or Two Organizations
by Daniela Yu and Amy Adkins
Charitable Giving: Donors Focus On One or Two Organizations is reposted with permission from Gallup.

---
STORY HIGHLIGHTS
Donors regularly give to one or two charities
Fully engaged donors are twice as likely to plan to increase their funding
A compelling brand or service promise engages donors
---
Americans have a strong reputation for giving generously to the charities and nonprofit organizations they support. Though the financial crisis and ensuing Great Recession had a negative effect on giving, donations nationwide have more than rebounded in recent years. Giving USA estimates that Americans donated $358 billion to charity in 2014, the largest amount tracked by the organization in 60 years.
Gallup's recent analysis of charitable giving shows the amount donors plan to give is likely to remain the same or increase. Among U.S. adults who said they donated money in the last 12 months, 77% say they will give the same amount to charities in the next 12 months, while 18% plan to give more and 5% intend to give less.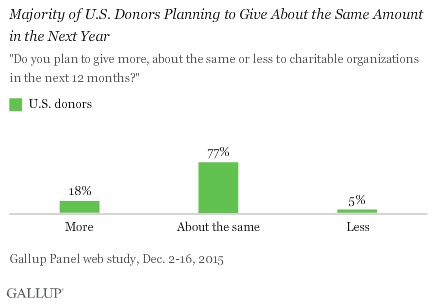 Americans also donate widely and frequently. Almost half of donors (47%) give money to three to five organizations, and 15% give to six or more. A little more than one in four (26%) donate at least once a month, and almost half (46%) donate a few times a year.
Though the amount of giving overall has risen in the past few years, not all of the 1.41 million nonprofit organizations in the U.S. are sharing in this largesse. In conversations with some of these organizations, Gallup has learned that their donations are on the decline. What factors could be affecting donor giving — and their donor relationships?
Americans Give Regularly to Primary Organizations
Though the majority of donors give money to three or more organizations, it's common for donors to give the bulk of their donations to one — or, at most, two — organizations. Almost half of donors (46%) give money regularly to a primary charitable organization, while another 27% regularly give money to a secondary organization.
Organizations that are not considered a first or second choice typically receive a one-time-only donation. Slightly more than four in 10 donors (42%) say they have made a single donation to a charitable organization in the past 12 months, while another 28% have done the same with two organizations. Many donors who say they will give less money to charity in the future are feeling constrained by expenses (for example, they will earn less money or have too many or increased expenses or debts). Those who plan to continue to give will focus their giving on a smaller number of organizations.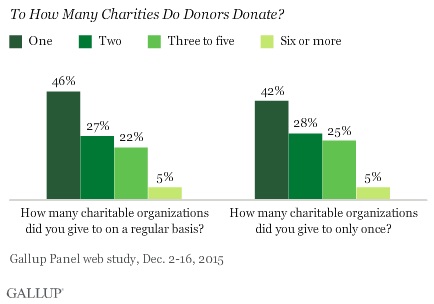 Donor Engagement Increases Giving
Gallup analysis shows that donor engagement can move giving from a one-time occurrence to a regular commitment. Gallup has studied customer engagement for decades and finds that donor behavior is very similar to customer behavior. Donors invest money and effort in charitable organizations when they feel a strong emotional and psychological connection to them. They may donate to other organizations occasionally, but they keep going back to the causes that emotionally engage them.
Gallup classifies donors into three categories:
Fully engaged donors are emotionally attached to an organization and believe in its purpose. These donors are strong ambassadors of the organization. They donate regularly and go above and beyond to promote and support the cause.
Indifferent donors are emotionally neutral. They may donate once or twice because of a random opportunity. They know little about the cause and may not know what their money supports. Indifferent donors lack the passion and belief found with fully engaged donors.
Actively disengaged donors are emotionally detached from the charitable organization. They do not believe in the purpose of the organization and may not trust that the money they donate goes to the actual cause. These donors may voice their negativity about the organization to others and, when given a choice, they would be more likely to donate to another organization.
It's no surprise that fully engaged donors are more likely to see an organization as their charity of choice and to donate to it regularly.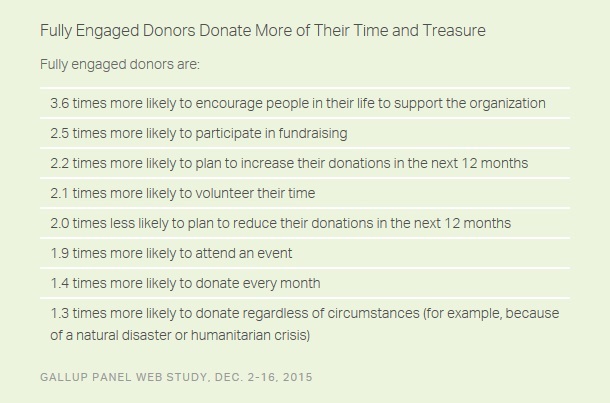 To gain these benefits, though, charitable organizations must fully engage their donors. Slightly more than half of U.S. donors (53%) are fully engaged with the charitable organization they donate to most regularly. This means that more than half of donors feel a strong emotional attachment to the charities they often give money to, which may explain the impressive recent increase in U.S. donations.
But not all charitable organizations are having success in creating donor engagement. As with for-profit companies, organizations that want to engage donors and separate themselves from the other 1.41 million U.S. charities need to create and consistently deliver on a "brand" or service promise. The most compelling promises Gallup has studied incorporate five crucial elements:
Point of difference: What is unique about the organization's brand or service promise? Is it truly different, or can it apply to any charitable organization?
Clarity: Do both employees and donors know what the organization stands for?
Alignment: If donors are asked to describe the brand or service, would they give the same description, and would it be consistent with the charity's description?
Performance: How is the organization delivering on its promise? Is the delivery consistent across different communication channels, among different donor groups and among different people who receive assistance?
Momentum: Does the brand or service promise encourage further giving and involvement? Does the organization make donors believe in a better future for the brand?
The next article in this series will expand on the concept of brand or service promises and the elements that create a compelling organizational identity that engages donors.
Survey Methods
Results are based on a Gallup Panel web study of 17,174 U.S. adults who have donated to a charitable organization in the past 12 months, aged 18 and older, conducted Dec. 2-16, 2015. The Gallup Panel is not an opt-in panel, and panel members do not receive incentives for participating. For results based on this sample, one can say that the margin of sampling error is ±1 percentage point at the 95% confidence level. Margins of error are higher for subsamples. In addition to sampling error, question wording and practical difficulties in conducting surveys can introduce error or bias into the findings of public opinion polls.
Learn more about how the Gallup Panel works.
---
Jim Clifton, Chairman and CEO, Gallup Organization was the featured keynote speaker at the 2016 DMAW Annual Meeting on Tuesday, March 15, 2016. A blog about his presentation can be read here.