Think your marketing efforts are ahead of the curve? Think again.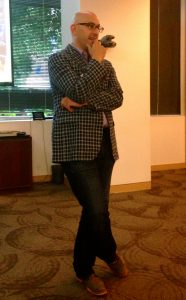 By Danielle Hart
Just as organizations are catching up with content marketing and big data, there's a new wave of technology being ushered in at an incredibly fast and overwhelming rate. And contrary to popular belief, marketers are not prepared.
"The most exciting thing about the future is that no matter what, history matters, and what makes people loyal to brands stays the same," explained Geoff Livingston at the July EdVent on contextual marketing. He went on to say that while new technologies and communications tools are developing more rapidly than ever, context and relevance to audiences remain most important to successful marketing.
Today and here on out, our news and the media being produced is so intertwined with big marketing money that it's hard to say what's real and what's a marketing ploy. For example, did the Discovery Channel choose to cover Red Bull Strato's live? Or do you think Red Bull was ponying up a pretty penny to have this aired? Just like Robin Thicke's hit new song, there are some "Blurred Lines" when it comes to these situations. And customers are picking up on this.
When Geoff asked the room "who here still trusts CNN?" you could hear the crickets chirping. Where are the news stations getting their stories? They follow what's trending on Twitter, what's being shared on Facebook, what YouTube video has skyrocketing views, and what corporations have paid them to cover a story. This is crowd-sourced news in a nutshell.
With all of this readily available information, and the fact that the public no longer fully trusts historically dependable news stations, where are people consuming their media? The answer is: it depends. Some people look to Twitter, Facebook, blogs or other social media, while others still look to TV news stations or the radio to stay up to date. Some people consume media on their mobile phones or tablets, others on a desktops or TVs.
Overall, the way media is produced and consumed today has changed drastically in two ways:
Digitization in today's society creates a media convergence. Paid media such as traditional ads, owned media such as corporate content, and emerged media also known as organic media, have blended together with marketing techniques like sponsored customers, press coverage, and promoted brand content to form converged media.
Consumers are using multiple devices to consume media – TVs, desktops, tablets and mobile phones. Shifting from one device to another, sharing screens, synchronizing devices, and using devices simultaneously are all nonlinear usage patterns of today's consumers.
What does this mean for the future of marketing?
Marketing efforts should no longer be single channeled. Stakeholders' media consumption patterns should hold the decision-making power for which channels marketing resources should be allocated.
Usage patterns are not linear – therefore marketing shouldn't be linear.
Transmedia experiences, allowing the user to move between media and devices, will result in a better experience and a happier customer.
Content must be relative and contextual to the stakeholders. With an outrageous amount of content that's constantly growing and growing, marketers will have to stand out from the crowded marketplace and connect to their stakeholders in order to sustain a relationship.
Customer experience marketing is key. Because of content overload, recommendations and word of mouth marketing from stakeholders' networks will be much more influential than paid advertising.
On demand customer service will have to happen. With the customer's ability to publically complain about a brand in real-time for everyone to see, it's imperative for organizations to handle customer service when an incident happens. If not, customers now have the ability to rally more people and potentially put a dent in the organization's reputation; a much easier way to spread the word than in the past.
In addition to the future of marketing principles listed above, Geoff provided us with examples of cutting edge technology and how brands can take advantage of them to connect with their stakeholders.
Google Glass – a wearable computer that tracks location and uses applications similar to ones found on an iPhone.Ex. Starbucks using Google Glass – Someone with the Starbucks app who's wearing Google Glass and walking down the street could be sent a notification right on their screen for a free tall latte at the Starbucks store that is exactly 5 buildings down on the left.
Digital Ubiquity – a product being delivered as a service.Ex. Grocery store digital ubiquity – Setting up a virtual kiosk at a subway station so people can order food on the go and have it delivered by the grocery store to their doorstep for when they arrive home.
Face recognition – identification of an individual based on their physical attributes.Ex. An electronic advertisement at a bus stop that has a camera behind the screen can identify the gender and age group of the person standing in front of the advertisement and queue content targeted towards that specific market.
Some other up and coming trends to consider in marketing practices are in-store pickups and voice input replacing typing on mobile phones. How will brands improve the experience for a busy person who wants to order an item online and pick it up immediately in-store? And will only the top positions in search engine results matter with voice input? These are a couple of questions along with many more that will need to be considered as the next waves of technology come crashing on shore.
With all of the new technology and the massive amounts of data being collected by organizations, the next big debate becomes the issue of personal privacy. The Millennials, growing up as kids in today's society, will have a very different understanding of privacy than a Baby Boomer or a Gen Xer. How will brands leverage big data and not totally invade their stakeholders privacy? How far is too far? How specific is just plain creepy? It's assumed the privacy opt-in policy will become much more important and relevant to stakeholders in the future success of marketing.
This month's EdVent was truly an eye-opener for any marketer who thought they had everything under control. The exciting new wave of technology is upon us and it's up to us marketers to use new technologies to connect with our stakeholders and create the best possible experience for our customers. Thank you Geoff Livingston for a fantastic presentation and for challenging us to think towards the future of marketing!
___________________________________________________________________________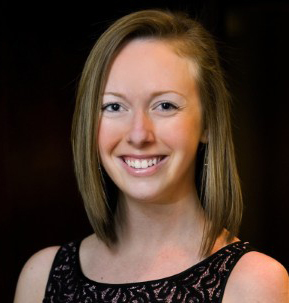 Danielle Hart doubles as an Online Fundraising Account Manager at The Engage Group and a Postal Logistics Account Manager at MailSmart Logistics. She can be reached at Danielle@engageyourcause.com or found on her personal healthy lifestyle website at www.dahartattack.com