A True Peaceful Transfer of Power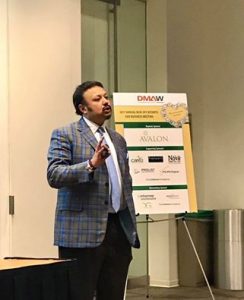 On January 24th the Direct Marketing Association of Washington (DMAW) held its annual meeting at the SEIU Conference Center.
The first order of business was the peaceful transfer of power from the 2016 Board of Directors to the 2017 Board which includes 22 members. And of course, Past President Cheryl Keedy peacefully passing the gavel to the 2017 DMAW President Eric Rardin – who promised his administration would refrain from basing any decisions on "alternative facts."
The highlight of the evening was the humorous, informative, and highly entertaining, James Bond oriented presentation by famed economist Anirban Basu, Chairman & CEO of Sage Policy Group. Mr. Basu is also chair and advisor to several organizations and associations around the country and our region, including his recent appointment by Maryland Governor Larry Hogan as Chair of the Maryland Economic Development Group.
Mr. Basu has the ability to present complex economic issues in a way that us non-economist, lay-people can understand. And he holds his audience's attention as well as a Robbin Williams stand-up comedy routine—little of which can I do justice to in a blog. So if you missed his presentation "The Economist Who Loved Me" featuring Mr. Basu and his band of adult-themed jokes you can see a portion of his performance right here.
Or you can read on for a few of his simple predictions for our economic future.
First of all, Mr. Basu warned that the global economy while showing encouraging signs of continued growth from 3.1% in 2016 to an estimated 3.4% this year remains weak. However, he also assured us all that 2017 promises to be a good year for the economy across the nation, as well as here in our region—thanks in part to economic recovery policies of the Obama administration, as well as short-term stimulus packages that are expected to come out of the new Congress and Administration.
Plus, according to the latest figures available from 2015 – and this trend is expected to continue at least through 2017 – online giving expanded 9% in 2015 … charitable giving totaled $373 billion, roughly 2.1% of the GDP … and from 2010 to 2015, charitable giving expanded at a faster rate of 3.6% over the GDP (which grew just over 2%).
Among Mr. Basu's biggest revelations of the night, was that the top 1% of Americans (our bequest, wills and planned giving supporters) account for more than a third of all donations. And of that 1% — 1.4% of them will donate more than 80% of all bequest. So now is the time to foster those one-to-one relationships with your major gift donors, as well as cultivate strong bonds with lower dollar donors who have the potential to give more
And if you're looking to target millennials, the most common age in America today is 25. The second most common is 26. And the third is 24. While they may not have much to give right now, they are savers; they care about the environment, LGBTQ rights; women's rights and much more. And just like their Baby Boomer parents, they eventually will be homeowners with money to contribute to the charities they've been connecting with since their 20s. It should also come as no surprise that the best place to find them is in growing progressive cities in both blue and red states.
So now is the time to get fundraising, because the future beyond 2017 is uncertain.
The reason for the uncertainty—as everybody knows—is the surprise results of the 2016 presidential election, which Mr. Basu even admits caught most economists off guard.
Keep in mind, in the Washington, D.C. area, we are "the swamp." There's been a partial freeze on federal hiring. Some contractors could lose out, while others will move in and prosper under a Trump presidency. Short-term stimulus packages will see us through 2017, and charitable giving is set to continue rising this year. But beyond that, there are headwinds on both the local and international front that have smart people worried for good reason.
But as Mr. Basu says, "Who knows? We'll have to wait and see."
We would especially like to thank our sponsors who helped us bring Mr. Basu to Washington and present DMAW's 2017 annual meeting: Avalon Consulting Group, Care2, Frakture, Nova Label Co., Inc., ProList, PS | PS Digital, RWT Production, Infogroup Nonprofit Solutions, The Lukens Company, MMI Direct, and O'Brien Garrett.
---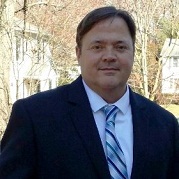 Stephen Godbout is a copywriter and creative director with 16 years of direct marketing experience. He can be reached at stephen@copybygod.com.