Thought You Knew it All: Think Again!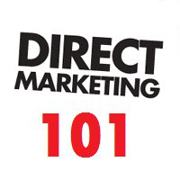 by Stephen Godbout
What a day it was at the spectacular U.S.A Today campus for DMAW's, DM201.
From new hires to industry vets, everyone learned something from the stellar line-up of DM pros who graciously shared their direct marketing experience.  Special thanks to all presenters, volunteers and sponsors PMG, RR Donnelly, and Direct Mail Solutions.
I've lots to share with you and online attention spans are at work, so let's jump right in.
Three Things You Should STOP Doing – Keynote Speaker: Tom Gaffny
As the keynote address, this was far too informative to cover here. Look for a separate blog dedicated to this section.  But here's a teaser.
"Our industry language suggests we "acquire," "capture," and "convert" donors.  If you were walking down the street and someone tried to acquire, capture or convert you, would you stick around?"
Data, Data, Data – Jim Emler, Integral; Bryan Evangelista, Lautman Maska Neill & Co.
If you asked me for dominating themes of the day, I'd have to say:
Treat your donors like human beings.
Show your appreciation through cultivation and engagement opportunities.
One of the best ways to do both of these is with a comprehensive analysis of data from every possible touch point.
Monitoring your data allows you to respond in real time to your donors as your campaigns progress, and of course, strategically forecast budgets and predict future trends.
Depending on the data you have, you can find out: What channels your donors are using to communicate with you? Which messages are working and which are not? Is your current campaign going to meet its projected goals? As well as who might be interested in getting more involved with your organization or respond to an upgrade offer? And where to focus your attention to increase donor satisfaction and thus retention?
You can even use multivariate testing[i] to dramatically reduce your testing to rollout time by using fewer packages to test more variables. But I've been told it's requires "pretty stat heavy back-end analysis," so don't try this at home without proper analytical supervision.
Making the Monthly Connection – AJ Minogue, ASPCA; Steve Kehrli, PETA
Hats Off. No one tugs our emotional heart strings better than the dogs and cats of ASPCA's DRTV monthly giving campaigns. But you say you can't afford Sarah McLachlin and TV ads.
Utilize all your channels. Consider online ads. Make monthly giving a standing option on replies and acknowledgments. Ask new donors to become monthly givers right away, because the chances of them migrating diminishes with each passing month. Upgrade anyway you can.
And treat these donors like gold.  They are your most loyal supporters.
Mid-Level Migration – Kristin McCurry, MINDset direct
Look under the surface of your file and you'll discover an entire herd of donors capable of filling the gap between your lower and higher dollar donors.  A few tips for a mid-level program.
Begin by selecting the right audience.  Look at cumulative giving, single outliers, all channels. Remember migration isn't one way—lapsed major donors can be brought back into the fold.
To retain your mid-level supporters, treat them as investors. Offer periodic updates and in-depth views of how their money is used. Grant them access to higher-ups in your organization.  Create opportunities for one to one dialogues. Make sure everyone in your organization is paying attention to possible migrators.
A real-world example of having these business practices in place:
A sustainer whose monthly pledge was only $25 a month sent in a check for over $3,000. Because the right people were paying attention, the organization was able to
have this donor on the phone within 72 hours of her putting the check in the mail.
Multi-Channel Magic – Presented by Adcieo.  Featuring: David Chalfant, Whitman-Walker Health; Roxanne Fiddler, GEDCO; Brittany Fowler, Susan G. Komen – Maryland
What happens when you coordinate a campaign across all available channels and do it well:
Whitman-Walker Health filled a fundraising dry zone between its October AIDSWalk and the traditional holiday season with a Neighbors in Need campaign, achieving fundraising gold.  They also cleverly incorporated their end of year holiday card mailing as a thank you, follow-up to the campaign.  Results: Over 5% response from their appeal audience. An acquisition that paid for itself.  And from their lapsed donors, an impressive 8.4% and 6.1% response from phones and mail respectively.
GEDCO, a faith-based community organization out of Baltimore serving mostly low-income seniors saw a 60% rise in donations over a three year period by developing and refining a year-end multi-channel campaign.  What's most impressive is they achieved these results by turning their mostly 60+, mail oriented donor file into online responsive donors.
Designs that Shine, and Work – Cheryl Keedy, Production Solutions
The Vanna White of direct mail showcased over 100 samples of the hottest package components winning tests and standard workhorses getting donors' attention in today's crowded mailboxes.
Some of the hot items: dimple textured carriers … priority handling stickers … inside security tints for OE's … oversized, drop cut book marks as part of the insert … business cards with photos … actual address label to right of window with priority mail reply showing through the window … decals showing through rear window … infographic showing through second window … self-mailer with pull-out business reply card … and a pop-up paper bank sent along with a request for the donor to save their change in it so they can send in a donation of equal amount.
---
[i] Katie Vlavo, Associate Director of Acquisition for The Nature Conservancy discussed using multivariate analytics in helping to shorten their testing to keep their acquisition up during the economic downturn.
_________________________________________________________________________
Stephen Godbout is a freelance copywriter with thirteen years direct marketing experience.  He can be reached at stephen@copybygod.com.