Three Steps to Optimize your Donation Form for Year End Giving
It shouldn't come as a surprise, but it always does. The days get cooler, the leaves begin to change and – WHAMMY – it's time to plan for year-end, holiday giving. One key element of an organization's strategy should be to enhance its donation form experience. As you know, for many charitable organizations a considerable amount of giving occurs in the last three months of the year. You don't want to miss any opportunity! That's why it's important to ensure your website features an easy-to-use donation form.
Here's how you can update your donation form in three steps.
Step 1 |Keep it simple and compelling
Make your donation process short and sweet, remove any extraneous fields. Make your call to action clear, share just enough information to influence supporters to give. Demonstrate what their gift represents. Tell your donor why and how their donation will change things.
Mention if there's an incentive or matching gift opportunity. Use an attention grabbing headline, a moving image and strong call to action language.
Step 2 | Make it easy to find and navigate
Feature eye-catching links to your donation form throughout your site, and in your navigation. In high giving months, use an interactive homepage light box to drive donations, or consider dedicating some space on your homepage to the campaign. Drive donors to a single page form that only requires one click to donate.
Step 3 | Make it work for you and your audience
Mobile devices are now a staple in everyday living, so it's critical you optimize your form for mobile viewing. Add prompted price points to encourage generous donation amounts (ie: $50, $100, $250). Make it easy to give recurring gifts. Collect a donor's email for future communications. Remember your audience. If your visitors are older, use a larger font and keep fields to a bare minimum.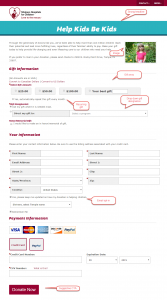 Pictured here is a one click donation, mobile optimized page CDR Fundraising Group developed for Shriners Hospitals for Children® where we put a number of these best practices to use. Donations doubled on this page after making these easy optimizations.
And of course remember to continually test your donation form. Even a little change can make a big difference!
Katy Jordan is Vice President of Integrated Marketing at for CDR Fundraising Group, an integrated marketing agency serving nonprofits in a variety of areas, including online fundraising, direct mail, advocacy, list brokerage and management and mission-specific marketing.
She can be reached at kjordan@cdrfg.com or (301) 858-1500.